SUNDER Jerami Straw Louver Partition Divider 3 Panels
Sale price

RM 750.00

Regular price

RM 750.00
Pre-Order Goods (30-60days)
Secure Payments and 'Buy Now Pay Later'
Authentic and Free Shipping to Semenanjung Malaysia*
Share
Intro
Straw Jerami Partition Divider
"Straw-made roof, tikar mengkuang" are well used and known typically by our older generations. The strength, durability, availability and comforts were the main reasons being used in every houses those days, years after years.
With limitation sources and lesser craftsmanships in handling this naturemade nowadays, make it more valuable in designers eyes not only on the authentic texture but the durability.
This tropical paper hay straw weaved 3 panels partitions divider in natural finish enables for individuals to keep a safe zone and to keep privacy from visitor's view, and even better appealing as decorative new vibe to your space.
The divider is made for easy folding in both directions. Convenience to fold and put away if not in use. Handcrafted by the expertise, will add texture or define a space with this handsome room divider.
Straw screen partition, natural atmosphere, color and structure convey a strong sense of style. It simply but a great design.
Product Details
Name : Straw screen
Material : processed natural aquatic plants, hays, straw + internal iron metal bracket + solid wood bracket
Size Dimension :
170cm overall height | 38cm width per screen
A 170cm overall height | 38cm width per screen x 116cm (expanded width )
B 170cm overall height | 38cm width per screen x 120cm (expanded width) Dark Aged
C 170cm overall height | 38cm width per screen x 120cm (expanded width ) Light Aged
Panel Thickness : Approximately 3cm each
*size measurements may have some different 2-3cm due to man handling operation. some imperfections appearance may occurs as its a natural made.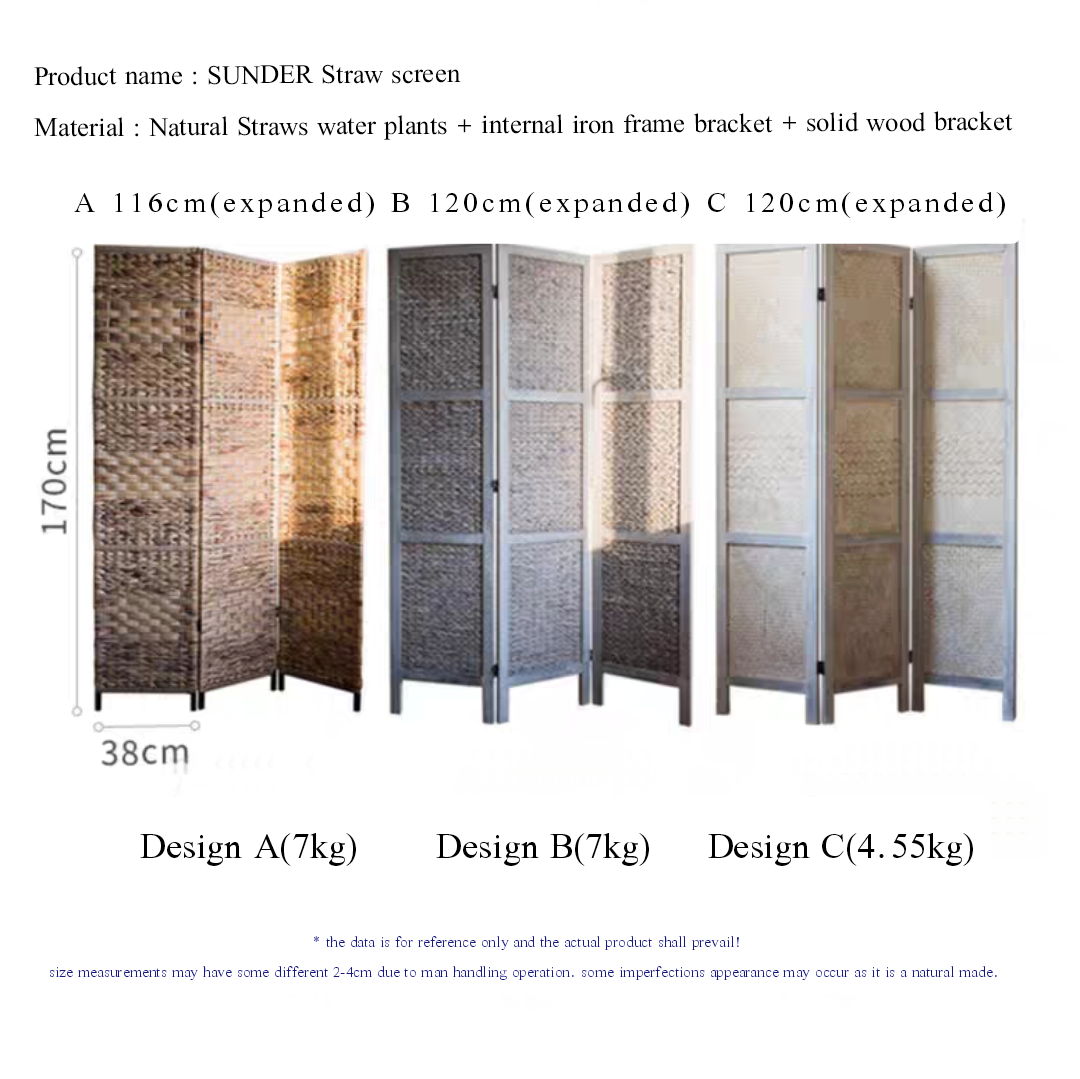 3 Panels Variation
A Brown Natural
B Dark Aged Treatment
C Light Aged Treatment
Assembly : Fully Assembled
folds flat for easy storage
1)
Ordering
This is Pre - Order | Made to Order item.
PRIOR TO ORDERING ,KINDLY TO TAKE NOTE:
The design and style of some of our wood collection is moreover in distressed style and/or using solid materials - wood, rattan,shell.
Hence, IMPERFECTION, wood marks to be expected. We minimalises and keep the original of the wood natural grain and the beauty to be incorporated to it.
Kindly to consider prior to ordering. NON RETURNABLE once received due to the natural.
Upon confirmation of ordering, all items are not REFUNDABLE , NO CANCELLATION allowed unless with Management agreement. Handling fee may be applicable.
However, clients/buyers are given 24 hours to make any amendment on the items ie Colors, Materials upon new order.
Do give us a tickle if more details are needed.
2) Pre-Order Delivery
🔹Semenanjung Malaysia - Free Delivery ETA 35-50 days.
🔹Langkawi, Genting Highland, Cameron Highland, Sabah and Sarawak will have an additional cost of shipping chargeable.Do reach us for the additional fees.ETA will be 45-60days.
Urgent buyer kindly to reconsider prior to ordering.
HOWEVER , we would like to be given opportunity to offer you the quality goods and timely worthy.
3) Delivery / Logistic
Pre-Order Goods delivery
ETA 35-50 days Semenanjung Malaysia
ETA 45-60 days East Malaysia / Highlands
(Customized items may needed extra 5-10days eg Sofa,Wood Furniture)
Prior to home delivery, our PIC will let you know the actual date of the arrangement 1 or 2 days ahead.
[Any last minutes changes after confirmation will be charged with delivery cost which to be borne by client]
NOTE : For high residential, our LORRYMAN team only able to send it up to the LOBBY.
We will send to all main areas, roads. Remote places unreachable may arrange for meeting point of pick up prior to delivery. Kindly to advise.


4) Acceptance Of Order
We highly advise to take some photos/clips upon goods receiving from our Logistic Team and Unboxing.
For claim of any unprecedented ,kindly to submit with Photos and /or Video Clips -
- UPON RECEIVING FROM OUR LOGISTIC
- UNBOXING
Failing to submit valid proofs may affecting the claim status for RETURN and REFUND to be proceed.
Acceptance of goods with dispute/error, kindly immediately to reach us with the related issues involved. For fast response, may directly Watsapp us at 017.603.8289 at anytime.
We are looking forward with any feedbacks on the items. Your valuable feedbacks will help us for rooms of improvement.
5) Sharing Is Caring 😊
Do keep us posted. If you are happy with it,do share us around. We are much appreciated .
May tag us to our:
IG bynuffelproject
FB page bynuffelproject
https://www.facebook.com/bynuffelproject
as at June 2022/3 bynuffelproject
google.com, pub-7215036504868619, DIRECT, f08c47fec0942fa0