ARTOO Wood Cabinet SideBoard
Regular price

RM 1,290.00

Sale price

RM 1,290.00

Regular price

RM 1,290.00
Pre-Order Goods (30-60days)
Secure Payments and 'Buy Now Pay Later'
Authentic and Free Shipping to Semenanjung Malaysia*
Share
ARTOO Cabinet
ARTOO Wood Robot Cabinet is a versatile and unique playful character that is sure to be a conversation starter and more inviting environment.
It is made from high-quality materials and is built to last. ARTOO Cabinet standout feature is a smiling robot design, while it is 360 degree rotatable for easy access to your belongings from any angle.
The built-in liftable top placement ideally allows you to easily access your items and adjust the viewing angle of your devices, ensuring optimal ergonomics and reducing strain on your neck and back.
It promotes a comfortable and efficient environment, whether you're studying, working, or enjoying multimedia content.
Plus, it's sure to be a hit with children and adults alike.
Having a versatile and interactive piece of furniture can make studying or engaging in activities more exciting.Children can easily adjust the top to their preferred height or angle, creating a personalized and enjoyable workspace. It can also encourage their creativity and imagination, making learning a more enjoyable experience.
So, adds a touch of fun to your decor. A great way to infuse joy into your surroundings and make your space more enjoyable for everyone with the charming ARTOO Robot Wood Cabinet.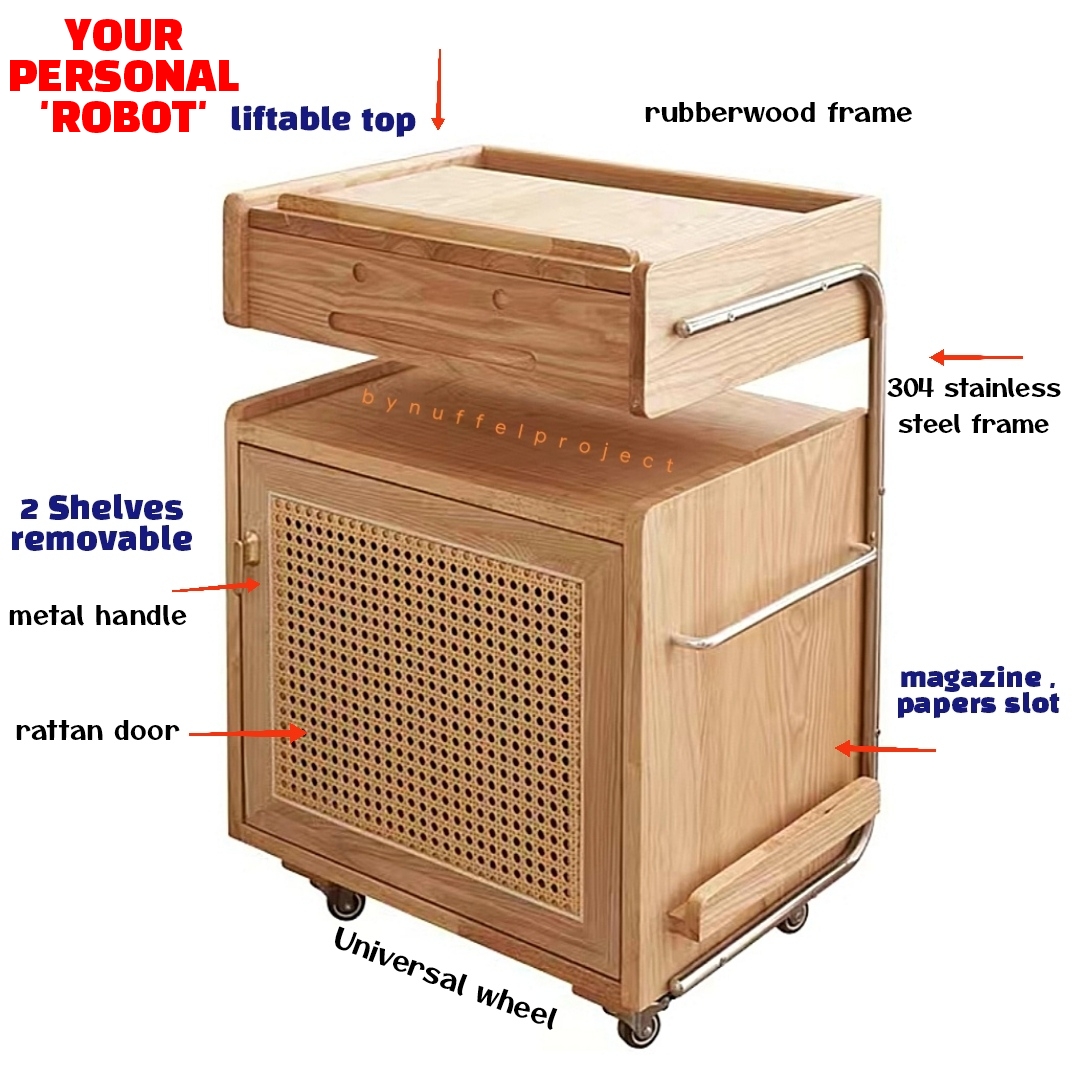 Product Details
Design
Modern Nordic Wood Cabinet
Style
Droid Robot Contemporary Modern
Main Material
Rubber Wood , Stainless Steel
Auxiliary Materials
Cherrywood veneer (back panel), 360° universal wheels (diagonal with lock), rattan weaving door |tempered glass door with stainless steel (Support Frame + Handle )
Size Specification
DIMENSIONS :
Length (L) 432mm
Width (W) 382mm
Height (H) 727mm
INTERIOR :
Length 375mm
Width 325mm
DOOR FRAME SIZE :
Length 372mm
Width 390mm
Shelf Thickness (H) 18mm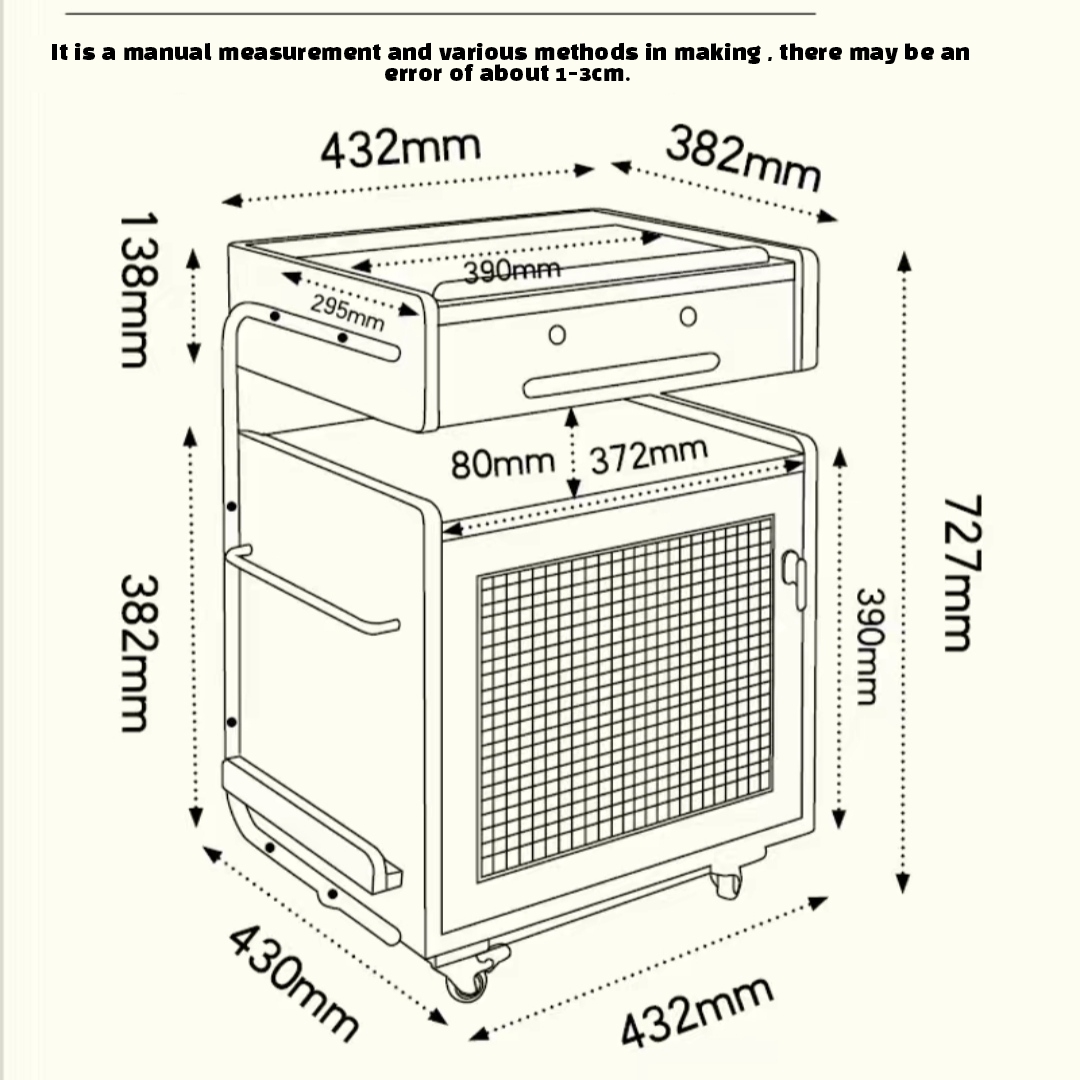 Measurement Note: Because it is a manual measurement, and the measurement method is different, there may be a gap of about 1-3cm.
Assembly
Simple Self Assembly - to install wheels. DIY so much fun!!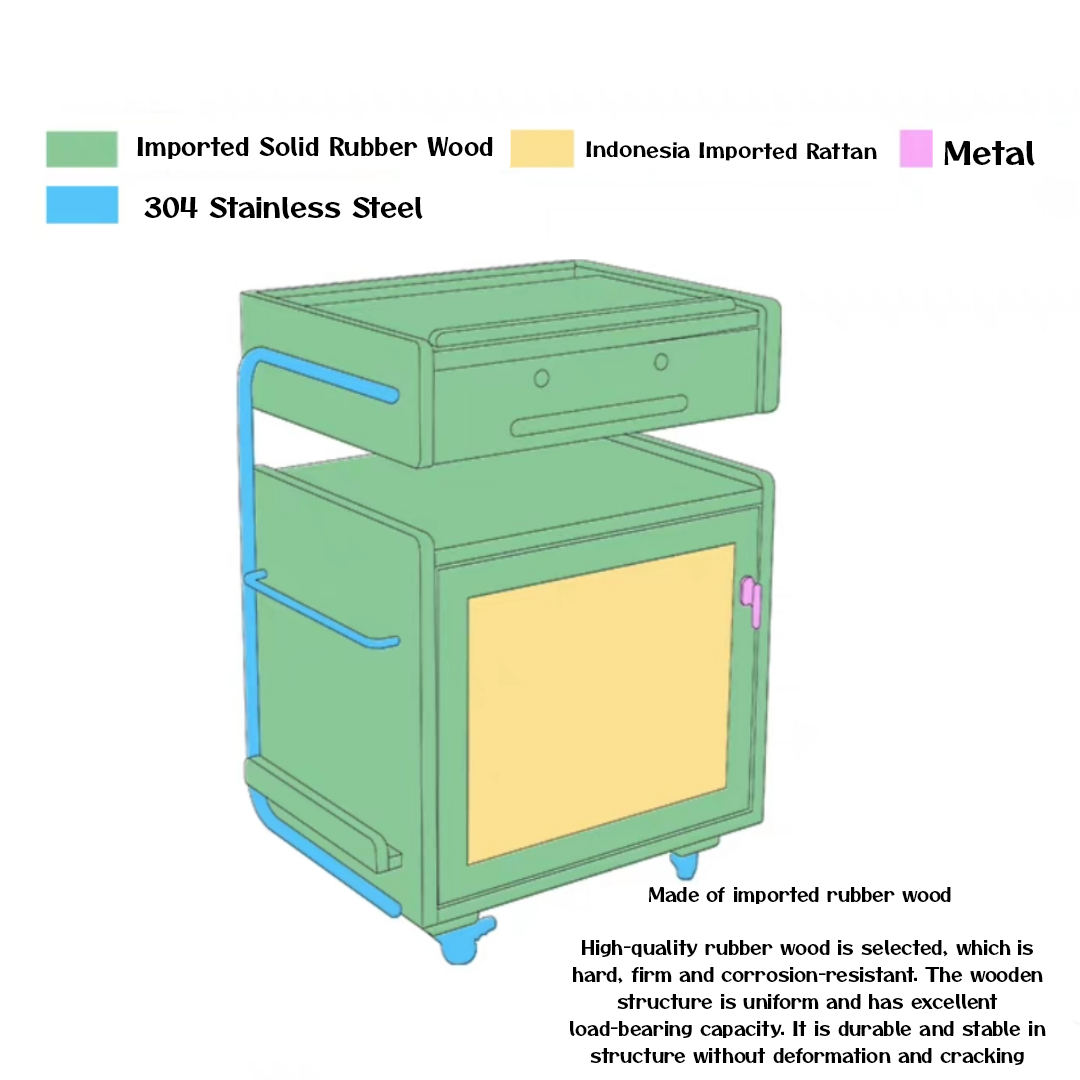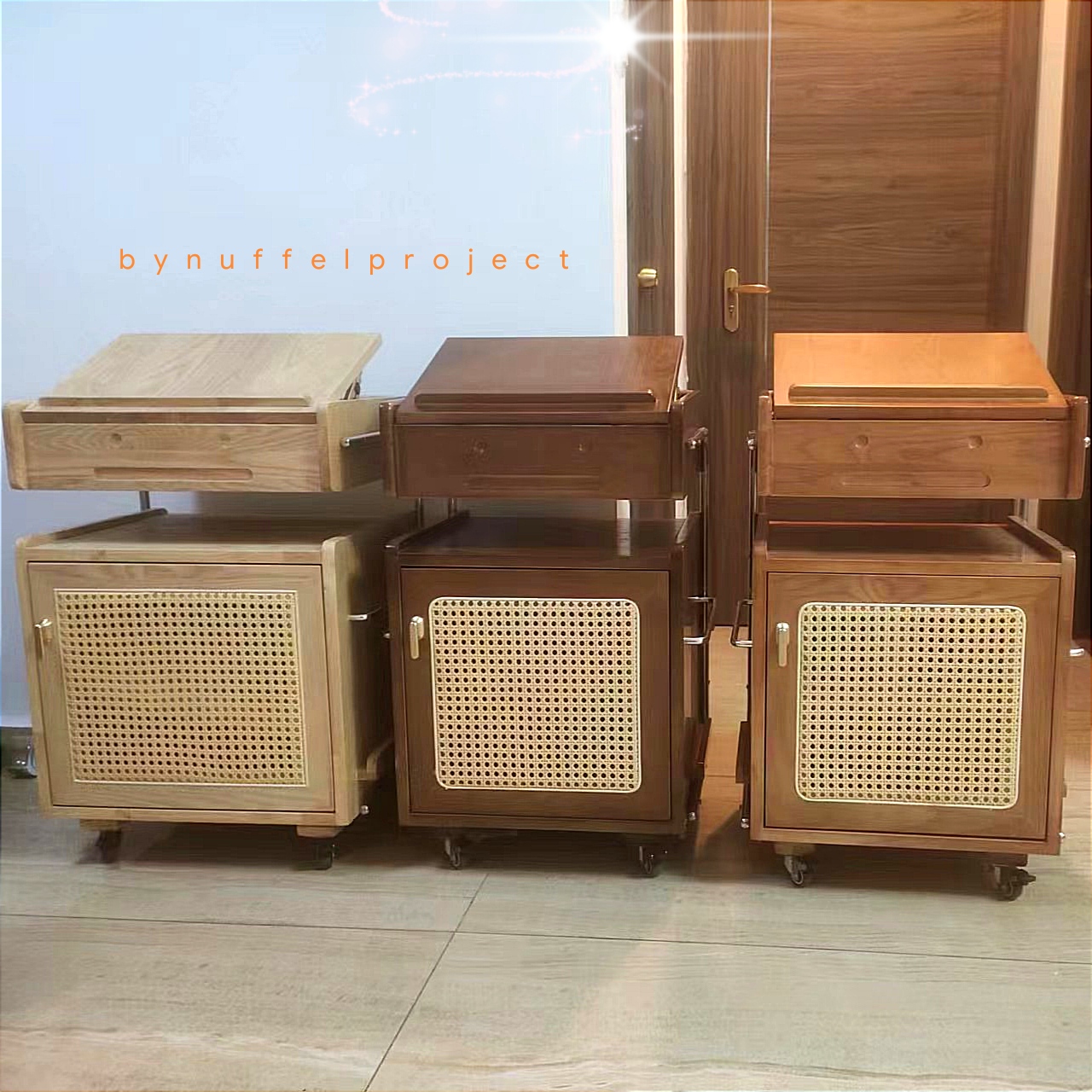 Maintenance Tips :
▶Avoid long-term exposure to strong sunlight.
▶Keep indoor dry humidity.
▶Use heat insulation pads for hot objects.
▶Water stains on the surface of the furniture should be wiped dry as soon as possible.
Do prevent any corrosive objects on the surface (including alcohol, bananas, nail polish remover, soft rubber products)
1)
Ordering
This is Pre - Order | Made to Order item.
PRIOR TO ORDERING ,KINDLY TO TAKE NOTE:
The design and style of some of our wood collection is moreover in distressed style and/or using solid materials - wood, rattan,shell.
Hence, IMPERFECTION, wood marks to be expected. We minimalises and keep the original of the wood natural grain and the beauty to be incorporated to it.
Kindly to consider prior to ordering. NON RETURNABLE once received due to the natural.
Upon confirmation of ordering, all items are not REFUNDABLE , NO CANCELLATION allowed unless with Management agreement. Handling fee may be applicable.
However, clients/buyers are given 24 hours to make any amendment on the items ie Colors, Materials upon new order.
Do give us a tickle if more details are needed.
2) Pre-Order Delivery
🔹Semenanjung Malaysia - Free Delivery ETA 35-50 days.
🔹Langkawi, Genting Highland, Cameron Highland, Sabah and Sarawak will have an additional cost of shipping chargeable.Do reach us for the additional fees.ETA will be 45-60days.
Urgent buyer kindly to reconsider prior to ordering.
HOWEVER , we would like to be given opportunity to offer you the quality goods and timely worthy.
3) Delivery / Logistic
Pre-Order Goods delivery
ETA 35-50 days Semenanjung Malaysia
ETA 45-60 days East Malaysia / Highlands
(Customized items may needed extra 5-10days eg Sofa,Wood Furniture)
Prior to home delivery, our PIC will let you know the actual date of the arrangement 1 or 2 days ahead.
[Any last minutes changes after confirmation will be charged with delivery cost which to be borne by client]
NOTE : For high residential, our LORRYMAN team only able to send it up to the LOBBY.
We will send to all main areas, roads. Remote places unreachable may arrange for meeting point of pick up prior to delivery. Kindly to advise.


4) Acceptance Of Order
We highly advise to take some photos/clips upon goods receiving from our Logistic Team and Unboxing.
For claim of any unprecedented ,kindly to submit with Photos and /or Video Clips -
- UPON RECEIVING FROM OUR LOGISTIC
- UNBOXING
Failing to submit valid proofs may affecting the claim status for RETURN and REFUND to be proceed.
Acceptance of goods with dispute/error, kindly immediately to reach us with the related issues involved. For fast response, may directly Watsapp us at 017.603.8289 at anytime.
We are looking forward with any feedbacks on the items. Your valuable feedbacks will help us for rooms of improvement.
5) Sharing Is Caring 😊
Do keep us posted. If you are happy with it,do share us around. We are much appreciated .
May tag us to our:
IG bynuffelproject
FB page bynuffelproject
https://www.facebook.com/bynuffelproject
as at June 2022/3 bynuffelproject
google.com, pub-7215036504868619, DIRECT, f08c47fec0942fa0